The Bridge SOHO a 45 storey iconic integrated development by Oxley Holdings in the heart of Phnom Penh City.  The Bridge is a mixed development consist of The Bridge Residential, The Bridge SOHO and The Bridge Retail Mall within walking distance to The Peak, The Peak Office and Naga World Casino/Hotel/Shopping. The Bridge SOHO (small office home office) has a 3.6m ceiling height and will be ideal for small & medium enterprise (SME) looking to start a company in Phem Penh.
 The Bridge Cambodia is neighbored by with standard amenities such as banking, shopping dining and transportation. It is ideally positioned near International Finance Centre, Naga World Hotel (Casino & Entertainment Complex and Hotel & Shopping), Central Business Park and the Royal Palace. It is also near many embassies such as Russia, Korea, Australia and Singapore Embassy. The Bridge is near to amenities such as Diamond Island a seven storey shopping complex are all within reach for your daily necessities. Recreational amenities outside Theaters, Bassac River, Villages, Cultural Centre, Elite Golf Club and Markets.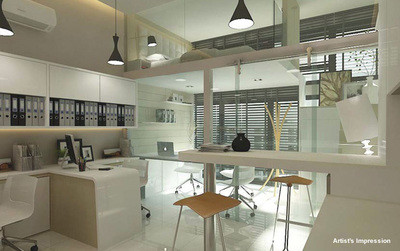 LATEST NEW RELEASE THE BRIDGE SOHO UNITS(SMALL OFFICE HOME OFFICE)
SOHO – 46-78SQM FROM USD100K-USD191K
Development Name: The Bridge Soho
Address : Village No. 14, National Assembly Street, Tonle
Bassac Commune, Chamkarmorn District, Phnom Penh
City, Kingdom of Cambodia
Property Type. : Mixed Development
Tenure. : Freehold
TOP : Estimate mid 2018
Site Area(sqft):10,090 m2
No. of Floors. :x45 Floors
No. of Units. :2,352 Units comprising of:
Residential Tower – 762 Apartments
SOHO Tower – 963 units
The Bridge Retail Mall – 595 units (589 Shops, 6 F&B, 32 Shophouses)
Condition: Partial furnished. Contemporary Design
Developer: Oxley Diamond (Cambodia) Co Ltd comprising of:
(Singapore Oxley Holdings and Cambodia World Bridge Land)
Buyer's Eligibility: 100% Foreigners eligible to buy (Except ground floor)
Facilities: Reading & Lounging Room, Concierge Area, Restroom, Gym, Steam Room, Jacuzzi, Function Room, F&B, Outdoor Dining Area, Swimming Pool, Children Playground, BBQ Pavilion
The Bridge SOHO Location Map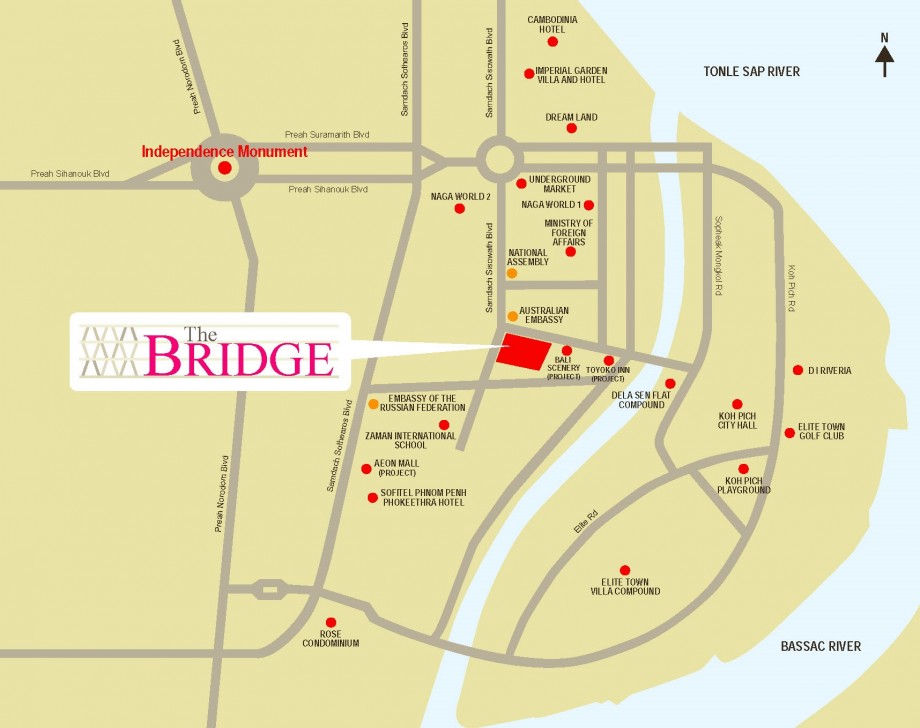 The Bridge is a mixed development located at Phnom Penh City, Kingdom of Cambodia. Standing at a staggering height of 45 stories, and consist of 2,352 units, comprising residential tower 762 apartments, SOHO Tower 963 units and Commercial Podium 595 units (589 Shops, 6 F&B, 32 Shophouses). It is a highly anticipated project, which offers both convenience and luxury. Estimated TOP is mid 2018.
Google Map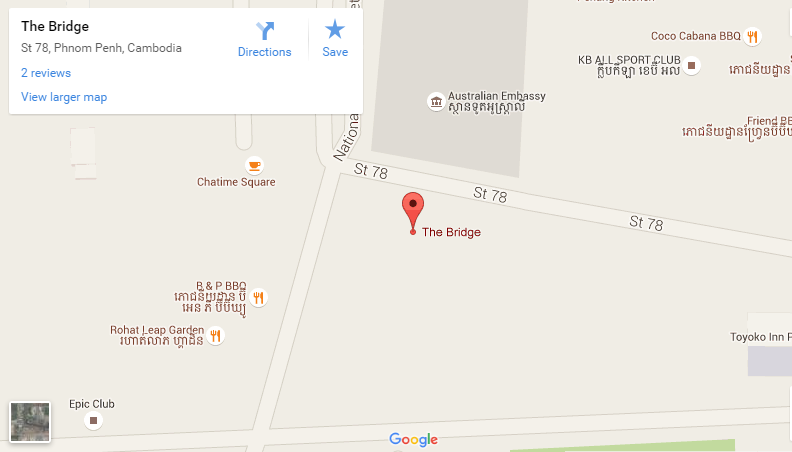 Virtual Tour
Reasons to buy The Bridge SOHO in Cambodia @ Phnom Penh City
* – Two International Developers – Singapore Oxley Holdings and Cambodia World Bridge Land.
* – Once completed, The Bridge staggering height of 45 storeys will be the tallest building in Phnom Penh City.
* – The twin skyscraper development will serve as a welcoming point for tourists and investors coming to to Cambodia.
* – 360 degree view of the Bassac River, Diamond Island and Phnom Penh City.
* – First movers advantage as Cambodia's demographics
* – Around 9 million people under 35 will marry and have children, thus make sense for people to buy now as property prices are going up by 10 to 20% on an annual basis.
* – Strategic location.
* – Low cash outlay and 3 years guaranteed high rental yield while stocks last.
* – Very affordable.
* – Why buy now? Enjoy Phase 1 price as usually Phase 2 there will be a 10 to 15% price increased.
* – Selection of choice units, best discounts by developer and no agent commission.
Amenities near The Bridge @ Phnom Penh City
A skyscraper in the city of Phnom Penh, The Bridge Cambodia offers a stunning and visually arresting view of the city skyline in the day and the alluring silhouettes at night. A mere 2 minutes from Preah Sihanouk Boulevard and 5 minutes from Diamond Island. 360 degree view of Bassac River, Diamond Island and Phnom Penh City.
Right beneath the apartment The Bridge Retail Mall, would be a supermarket, retail and food and beverage, providing convenience to residents that is unrivalled by any other. Build Bright University, University of Cambodia, International School of Phnom Penh is also located in close vicinity to the apartment and easily accessible for families with school-going children. Residing in a choice location, the development is an investment opportunity that is truly worth the while.
THE BRIDGE CAMBODIA LATEST PRICE AND FLOOR PLAN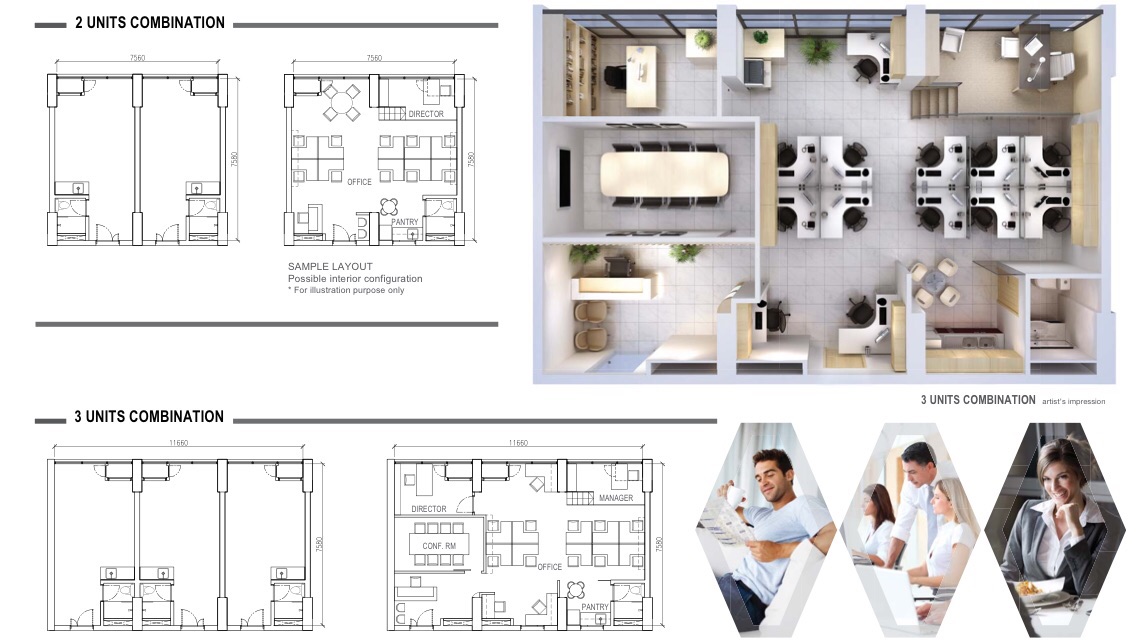 Click on link to find out more on the follow projects: The Peak Apartments, The Bridge Retail Mall, The Peak Office
Are You Interested in this Property??
Contact us now to find out more details about this:
Adrian Wee
Contact : +65 9755 5202
Email: info@showroom.com.sg
CEA Reg. No.: R013371C
Call us to make an appointment now. For overseas investors or buyers who are not residing in Singapore, you can choose to WHATAPPS  +65 9755 5202, EMAIL info@showroom.com.sg or fill up the form below and we will contact you the soonest.