The Bridge Retail Mall is a freehold retail shops by Oxley International and Worldbridge International located in prime location of Phnom Penh with The Bridge SOHO and The Bridge Residential just above it.  The Bridge Retail Mall have retail shops, F & B shops for sale within Phnom Penh's commercial, shopping & Tourism Belt in the Charmkarmorn District. Five levels of retail space for all types of shop spaces, from 2-storey shop houses, shopping units, restaurants and food courts to supermarkets, banks and stores with a high four-storey which would be managed by Metro Global. It is the 1st project of this kind, strata title shops and F&B for sale to foreigners in Cambodia.
Retail shops varies in prices from only USD 91K, F&B from only USD 200k to upward, All prices are without discount! Don't lose this chance to get this opportunity to purchase a commercial unit in the well known location of Phnom Penh. The demand is very high for commercial spaces due to high ratio of visitors , positioned very close to Shangri-La Hotel, The Peak, The Peak Office and Naga World Casino. Tourist favorite points with lots of dining options, shopping, clubs, and a lot more.
The Bridge Retail Mall will be open to international customers only for level 2 & 3. Ground level, Level 1, & Level 4 is only for sale to native Cambodians.
The Bridge Retail & F&B Guarantee Rental Return
The Bridge Cambodia Retail Mall & Restaurants comes with a compulsory Guarantee Rental Return (GRR) as follows:
Year 1 to 5 GRR at 6% per year

Year 6 to 10 GRR at 8% per year

Year 11 to 15 GRR based on mutual agreement between Developer and Owner. 

Option for Developer to renew
The Bridge Retail Mall Project Details
Project Name
THE BRIDGE Retail Mall

Address
Village No.14, National Assembly Street, Tonle Bassac Commune, Chamkarmorn District, Phnom Penh City, Kingdom of Cambodia
Developer
Oxley Diamond (Cambodia) Co, Ltd – jointly developed by Oxley International
Holdings Pte Ltd & Worldbridge Land (Cambodia) Co, Ltd
Tenure
Freehold
Parking
1,034 Car Park Lots & 414 Motorcycle Lots
Site Area
10,090 sq.m
Total No. of Units
Commercial Podium – 630 units (549 shops, 47 F&B, 1 Supermarket, 1 Food Court & 32 Shophouses)
Estimated Date
2018 (Retail units expected end 2017)
THE BRIDGE Retail Mall Location
The Bridge Cambodia (THE BRIDGE Retail Mall) is positioned just 2 minutes away from Preah Sihanouk Boulevard and five minutes far from Diamond Island. Many Old buildings, enjoyment options and shopping malls are easily approachable from The Bridge @ Cambodia. Within close area there are National Assembly, National Monument, the Ministry Of Foreign Affairs, Embassies and the 2 famous hotels in Phnom Penh.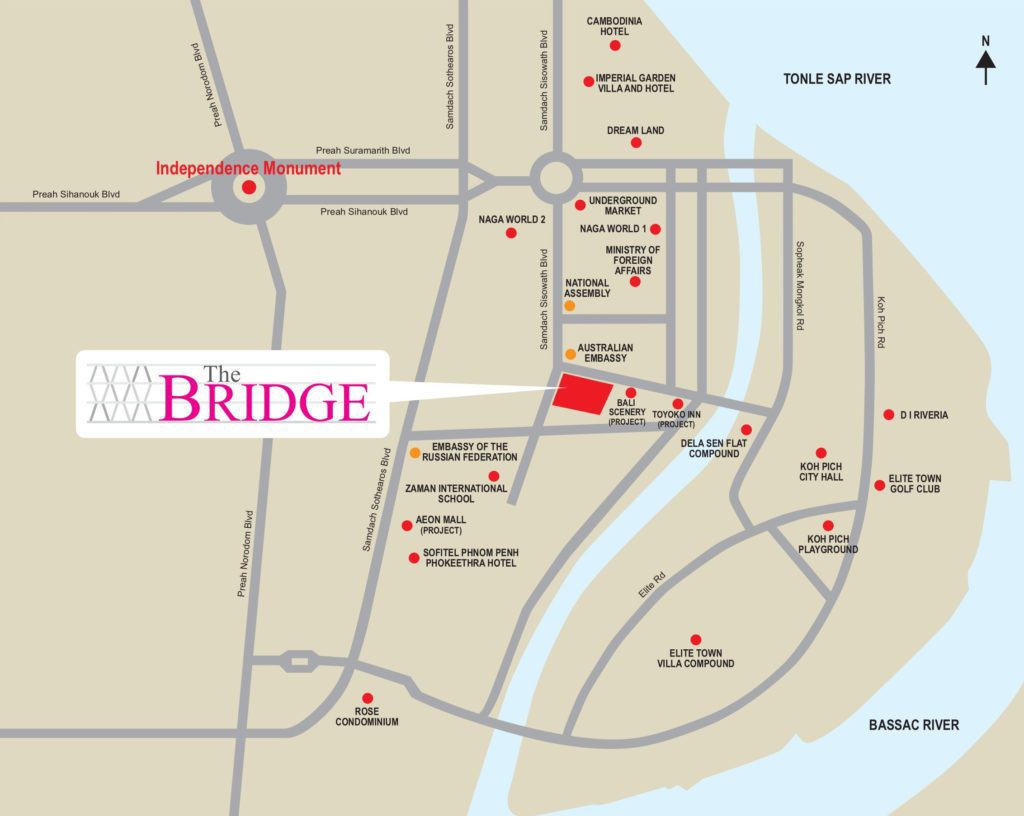 Google Map
Virtual Tour
Why Invest in Cambodia?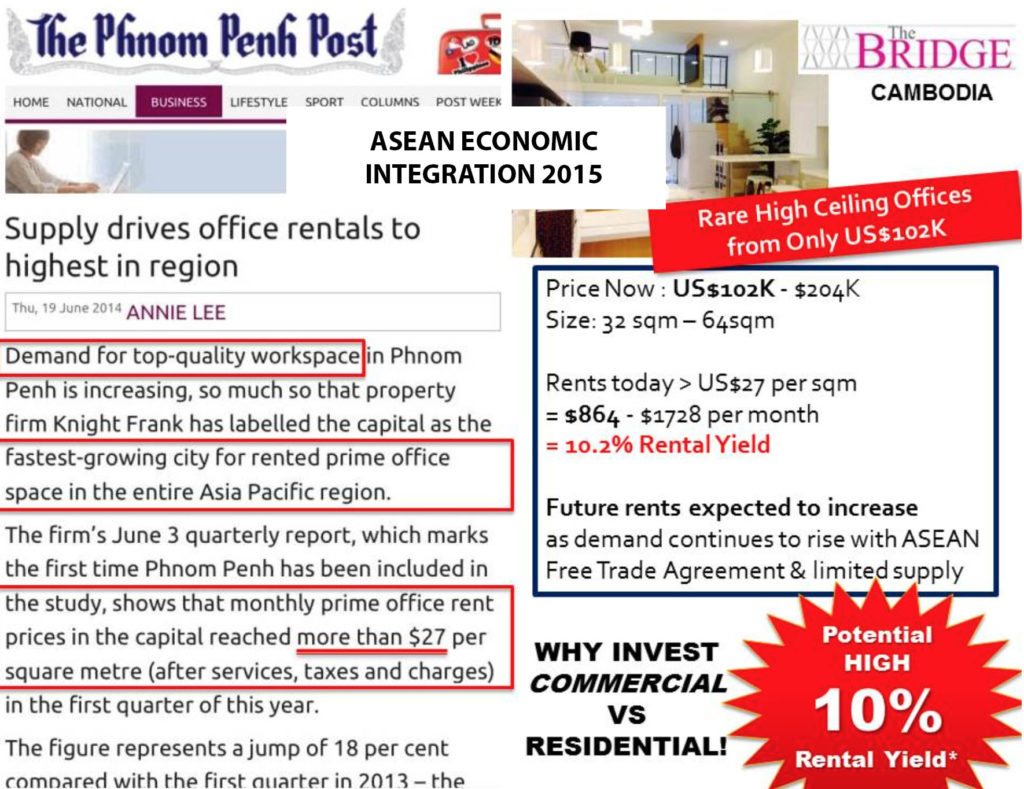 Reasons to Buy The Bridge Retail Mall?
By well reputed Singapore Developer Oxley
1st Mover Advantage into an Emerging Economy with High GDP Growth of 7%!
Super Prime Location – surrounded by Hotels, Casino, Embassies, Malls, Popular Eateries, Tourist Hotspot, CBD
ASEAN Free Trade Agreement from end 2015
Limited Supply of Shopping Malls (Only Strata Title Shop for Sale!) & Growing Demand / Tourism
One & Only Freehold Strata Titled Shops
At the Heart of Phnom Penh City, beside AEON Mall
Singapore Exchange Listed Reputable Developer Oxley International
LIMITED EDITION Variety of Unit Sizes : Retail Shops from 9.95 sqm to 56.91 sqm (Flexi-Unit Combi)
Exclusive F & B outlets : only 21 units available!
Unit Mixes
A Premium and Luxurious 45-Storey Mixed Development (Residential, SOHO, F&B, Retail/Commercial) with a total of 2352 units comprising :
Residential Tower

– 762 Apartments
The Bridge SOHO Tower  – 963 units

Commercial Podium

 – 630 units (549 shops, 47 F&B, 1 Supermarket, 1 Food Court & 32 Shophouses)

Approximate Private Area (sqm)
9.95 to 13.50 sqm = 37 units
14.43 to 18.48 sqm = 40 units
19.38 to 25.89 sqm = 52 units
31.06 to 33.96 sqm = 2 units
41.97 to 56.94 sqm = 3 units
Floor-to-floor height for all units : 5m
Units with Water Point & Floor Trap
10.58 to 16.82 sqm = 24 units
21.86 to 51.64 sqm = 4 units
F&B
38.11 & 102.47 sqm = 21 units
The Bridge Retail Mall Floor Plan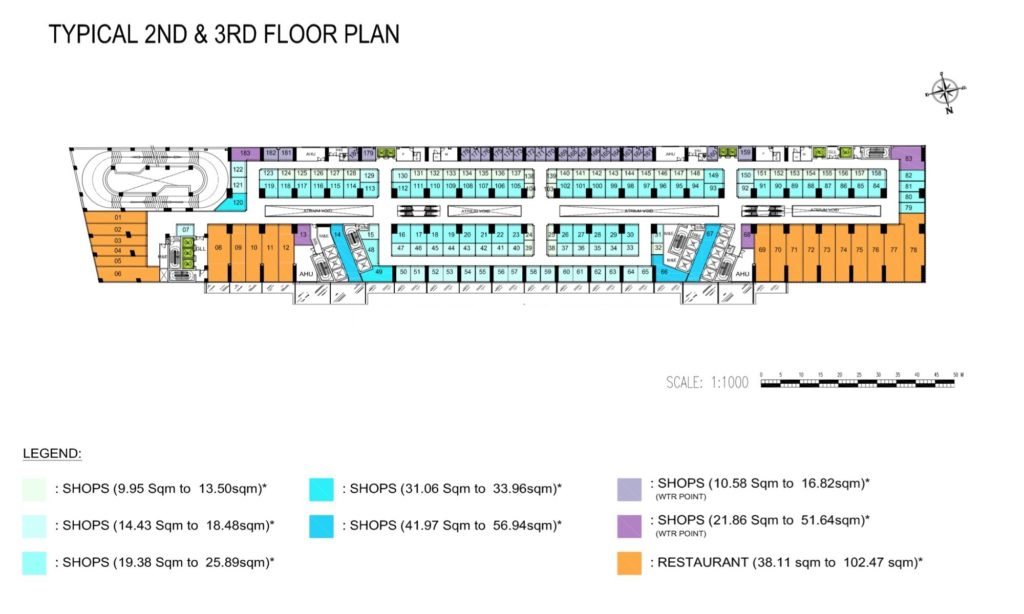 Click on link to find out more on the follow projects: The Peak Apartments, The Bridge SOHO, The Peak Office