The Astaka

At 1 Bukit Senyum, Johor Bahru, Malaysia


Call/SMS/Whatsapp The Astaka Hotline at +65 97555202 for enquiry!
The Astaka at 1 Bukit Senyum, Johor Bahru is a freehold 2 tower residential project, which is a part of a commercial development including a Hotel, F&B, retail, Office Suites, and a Business Office Tower (aka "Marina Bay Financial Centre of JB. The residential towers will house 438 luxury suites, including penthouse duplexes. The units at The Astaka have a built-up area varying from 2,207 sq ft to 2,659 sqft. The penthouses' built-up area are up to 5,408 sq ft. Each floor degree has four units and all are with two private lifts.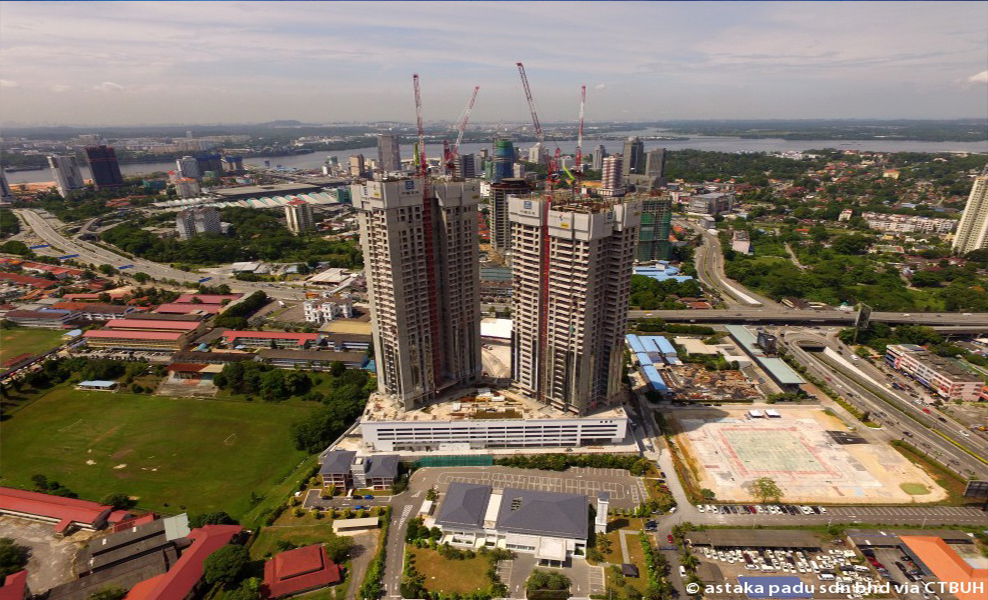 The Astaka Project Details
Developer :
Astaka Padu Sdn. Bhd
Location :
1 Bukit Senyum, Johor Bahru, Malaysia
Site Area :
96,000 sqft
Tenure :
Freehold
Total GFA :
TBA
Expected T.O.P. (Vacant Possession) :
Q2 2018
Total Number of Units :
2 Towers | 438 Units
Tower A : 70 storey
Tower B : 65 storey
Unit Mix :
3 Bedroom | 2207 /2217 sqft
4 Bedroom | 2659 sqft
Penthouse | 5408 sqft
The Astaka Facilities
Be enticed by the lavish furnishing that this residences is about to provide you. The Astaka is masterfully crafted to raise the bar on outstanding living with a distinctive design that invites admiration with Incredible Full Height Windows that draws amazement and awesome opinion. Each unit is wonderfully oriented for prime views over the glittering and shimmering water surface of Singapore/Johor straits. The beautifully appointed units vary from 2207 sq ft to 5408 sq ft each with its private lift and fitted with top-of-the-range designers appliances, tapware and kitchen.
The Astaka Location
The Astaka development location has the connections second to none: your private driveway leads directly to the Tebrau Expressway. 5 minutes to reach Johor Bahru, 20 minutes takes you to Singapore. Through the underground pass and you'll get to the second checkpoint for the Causeway. So leisurely you 'd think its your exclusive conduit! Senai Airport in thirty minutes and in under 10 minutes, you'll sail into Tanjung Puteri Harbour & Marina.
Why Buy The Astaka?
Iconic Landmark – Tallest residential building (301m) in the whole of Malaysia and Singapore.
All seaview facing (Permas Jaya seaview or Danga Bay view). Situated on elevated hill, unobstructed sea view from level 7 upwards, all facing are towards low rise landed and surrounding building, not likely be converted into high rise.
Closest to the causeway – Lateral distance of 800 meters to CIQ JB Sentral.
ONE & ONLY development connected by RM70m 2-way Private Access Tunnel to the CIQ means you can avoid traffic at all time.
Near Tanjung Puteri, where the future MRT (JB – SIN)
100% International Lots, No Restriction to foreigners. Easy for reselling upon TOP.
Highest Security with Photo Light Sensor Electronic Fencing surrounding the development, Full CCTV around Fencing & Security Checkpoints to development.
DIBS (Developer Interest Bearing Scheme) for the early birds, loan repayment starts only after TOP, literally 48 months from now.
The Astaka Site Map