Skywaters Residences
 8 Shenton Way Singapore 068811
Call/SMS/Whatsapp Skywaters Residences Hotline at +65 97555202 for the enquiry!
Skywaters Residences
Discover Skywaters Residences, the future tallest skyscraper in Singapore. This stunning 63-storey building, formerly known as AXA Tower, boasts a unique design featuring a step-like structure rising from a lush, green base. The facade of the building is designed with empty spaces that resemble a breathtaking bamboo forest, providing a tranquil and serene ambiance. Standing at 305 meters tall, Skywaters Residences is set to become Singapore's first supertall skyscraper, surpassing the current tallest building, Guoco Tower, which stands at 283.7 meters.
Experience luxury living inspired by nature at Skywaters Residences, a stunning 63-storey skyscraper in Singapore designed by renowned architecture firms DCA Architects and Skidmore, Owings & Merrill (SOM). This unique development features a biophilic design that seamlessly integrates natural elements, with vertical features reminiscent of a bamboo forest. In fact, engineered bamboo is used in select areas of the building, further enhancing its organic feel. Get ready to indulge in a one-of-a-kind living experience that connects you to the beauty of nature.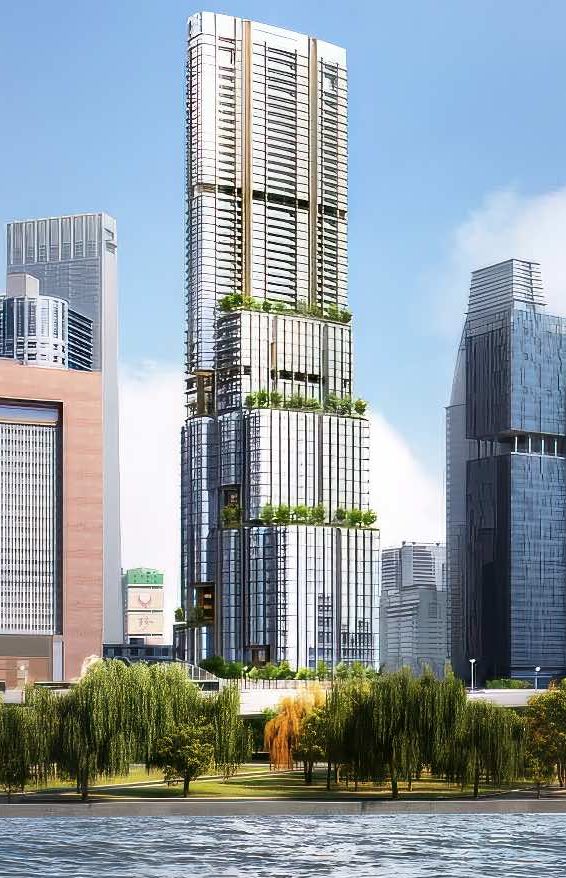 Project Details
Project Name:
Skywaters Residences
Developer:
Alibaba Singapore/Consortium Led by Perennial Holdings
Description:
215 Units
Location:

| | |
| --- | --- |
| | 8 Shenton Way Singapore 068811 |

District:
D01 Boat Quay, Cecil,Havlock Road, Marina, People's Park, Raffles Place, Suntec City
Total Units:
Tenure:
Expected TOP:
To Be Advised
Skywaters Residences Amenities
The spacious floor area ensures that future residents can move freely and comfortably in their homes. You'll find various unit types available, from one to five-bedroom apartments, allowing you to select the one that suits your needs best. Each room in the residence offers a sense of space and light, with a biophilic design that connects you with nature. Skywaters Residences boasts a gross floor area of approximately 148,000 sqm, providing ample space for relaxation and entertaining guests. With the floor plans designed to maximize comfort and style, you are sure to enjoy living at Skywaters Residences.
The Skywaters Residences site plan and facilities are designed to offer residents an unmatched living experience. The luxurious mixed-use tower is set to be an integral component of the Waterfront City, designed by the Best of American architect SOM. The prime location in the Marina Bay neighbourhood, coupled with the state-of-the-art facilities, make this a highly sought-after development. Though information about the facilities is yet to be released, you can register your interest to stay updated.
With sweeping views of the city, well-appointed furniture, and amenities, Skywaters Residences offers an inviting space of fun and intimate nooks. The site plan features a wide variety of facilities that cater to different needs, including a swimming pool, fitness centre, recreational areas, and more, which makes this a perfect abode for everyone.
NATURE & OUTDOOR ACTIVITIES
As a resident of Skywaters Residences, you will have access to a variety of outdoor activities and nature parks in close proximity to your home. The Marina Bay area itself offers new waterfront public spaces with recreational activities for all residents to enjoy. Additionally, the nearby parks provide green spaces to relax and engage in outdoor activities.
The Skywaters Residences property is situated in Marine Bay, district 1 in Singapore, giving nature enthusiasts easy access to nearby parks such as the Marina Bay Sands Park and Gardens by the Bay. With these natural spaces just a short distance away from your home, you can enjoy the best of both worlds – the urban convenience of the city and the calmness of nature.
Skywaters Residences Location Map
Location is one of the key selling points of Skywaters Residences. Situated in the highly sought-after Marina Bay area in District 1, this new launch condo is located right at the heart of the Central Business District, making it an ideal choice for those who value the convenience of living close to their workplace. You'll enjoy easy access to a wide range of amenities, including shopping malls, restaurants, and other commercial establishments in the area.
Moreover, the development is just a stone's throw away from Tanjong Pagar MRT station, which connects you to other parts of Singapore via public transportation. With unparalleled convenience at your fingertips, Skywaters Residences is definitely worth considering if you're looking for a luxurious new home in the heart of the city.
The neighbourhood surrounding Skywaters Residences is highly sought after and for a good reason. Located in the exclusive Marina Bay area in District 1, residents will enjoy unparalleled convenience with easy access to the Central Business District and major transportation hubs. The neighbourhood also boasts a diverse range of dining and entertainment options, with nearby shopping malls and various outdoor activities to explore.
The development is well-connected to multiple primary schools within 1-2 km, making it a prime location for families with young children. The neighbourhood also offers stunning views of the Marina Bay Sands, making it a coveted location for both locals and expats alike.
When it comes to convenience at Skywaters Residences, you'll be hard pressed to find a better location. Situated in Singapore's Marine Bay, this mixed-use condo development is just a stone's throw away from the Central Business District, surrounded by an established transport system, and boasts easy access to landmarks like 100AM and Guoco Tower. Plus, with a convenience store on site and banks, stores, and pharmacies nearby, you can rest easy knowing that everything you need is close at hand. Whether you're a busy professional or a family with busy schedules, the unmatched convenience of Skywaters Residences is sure to make your life easier.
AMENITIES
As a potential resident of Skywaters Residences in Singapore's exclusive Marina Bay neighborhood, you will be pleased to know that plenty of shopping hubs, hospitals, educational centers, and recreational amenities are within walking distance of your new home. The convenience of amenities is one of the key selling points of this mixed-use and integrated development that overlooks Singapore's CBD. You will have access to an array of world-class facilities, which will be finalized and released shortly.
Additionally, Skywaters Residences is located in the heart of the city, where you can find a plethora of shopping malls, parks, and outdoor activities to keep you entertained. Families with young children will be delighted to know that there are primary schools within a 1km to 2km radius, offering quality education to their kids. Overall, Skywaters Residences offers unmatched convenience and world-class amenities that make it an ideal home for both locals and expats alike.
Primary Schools within 1 km
This redevelopment project by Perennial and Alibaba is located within 1km of Cantonment Primary School, making it an ideal option for families with young children. Additionally, several other primary schools are within a 1 or 2 km radius, including popular options like Nanyang Primary School, Pei Hwa Presbyterian Primary School, and Hwa School. Whether you're looking for a top-rated school or a convenient commute, Skywaters Residences has plenty to offer. Contact the agent today to learn more about this rare freehold mega project in a private residential enclave.
Primary Schools between 1 1 -2 km
If you have school-going children, the Skywaters Residences offer convenience with various primary schools situated between 1-2 km. You can choose from numerous reputable schools that offer an array of curriculums, including the Singapore American School, Canadian International School, and the famous GEMS World Academy.
With schools located just a short distance away, you can ensure that your children save time and energy during the busy weekday mornings. The Skywaters Residences offer the unmatched advantage of providing quality homes in a location that values your convenience.
NEARBY SHOPPING MALL
When it comes to shopping, living at Skywaters Residences will not disappoint. With a plethora of shopping malls within the vicinity, you'll have easy access to all your favorite brands and lifestyle products.
From Plaza Singapura to ION Orchard and SCAPE, there are plenty of options to choose from. And with Lucky Plaza and the Cathay just a brisk walk away, you're sure to find everything you need.
With Skywaters Residences situated in the heart of Singapore, shopping and retail conveniences are abundant in the area. Enjoy a vibrant shopping experience like nowhere else.
Why Buy Skywaters Residences?
Skywaters Residences Is Set To Be Singapore's Tallest Building, Standing At An Impressive Height Of 305 Meters.
The Design Of The Building Features A Unique Step-Like Structure Rising Up From A Plant-Filled Base, With An Emphasis On Biophilic Design Inspired By Bamboo Forests.
Skywaters Residences Is Designed By A Partnership Between Two Renowned Architecture Firms – DCA Architects And Skidmore, Owings & Merrill (SOM) – Ensuring A High-Quality And Innovative Design.
The Building Incorporates Engineered Bamboo In Certain Aspects, Showcasing The Use Of Sustainable And Eco-Friendly Materials.
The Tower's Facade Includes Empty Spaces Designed To Resemble A Bamboo Forest, Adding An Aesthetically Pleasing Element To The Building.
Skywaters Residences Surpasses The Previous Tallest Building In Singapore, Guoco Tower, Solidifying Its Place As An Architectural Marvel And A Landmark In The City.
Skywaters Residences Site Plan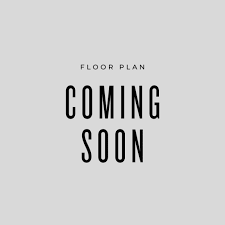 Site/ Floor Plan
Are You Interested in this Property??
Contact us now to find out more details about this:
Adrian Wee
Contact : +65 9755 5202
Email: info@showroom.com.sg
CEA Reg. No.: R013371C
Call us to make an appointment now. For overseas investors or buyers who are not residing in Singapore, you can choose to WHATAPPS  +65 9755 5202, EMAIL info@showroom.com.sg or fill up the form below and we will contact you the soonest.