Hillock Green
 2 Lentor Central Singapore
Call/SMS/Whatsapp Hillock Green Hotline at +65 97555202 for the enquiry!
Hillock Green
In the heart of Hillock Green Condo lies a gem with a rich history and a vibrant community: Ang Mo Kio Town. A bustling residential district and commercial center, Hillock Green location is an exemplary testament to Singapore's urban planning and development. Its well-rounded amenities, seamless transport network, rich history, and communal spirit make it a truly remarkable place to live.
Project Details
Project Name:
Hillock Green
Developer:
Lentor Central Development Pte Ltd
Description:
474 Units
Location:

| | |
| --- | --- |
| | 2 Lentor Central Singapore |

District:
D20 Ang Mo Kio, Bishan Thomson
Total Units:

| | |
| --- | --- |
| 474 Units of Condominium on Lot(s) | |

Tenure:
Expected TOP:
To Be Advised
Hillock Green Amenities
Hillock Green provides a comprehensive view of the layout, illustrating the positioning of various components of the development, including the residential units, common facilities, green spaces, and access routes. In the case of a condominium in Lentor, Hillock Green site plan would typically encapsulate a thoughtful design approach, intending to create a conducive living environment that maximises comfort, accessibility, and lifestyle amenities.
Hillock Green site plan would likely exhibit a harmonious blend of architectural innovation and the preservation of natural elements. The design should thoughtfully integrate the condo into the existing landscape, leveraging Lentor's rich foliage and serene environment. This could manifest in the form of landscape gardens, water features, and other green spaces interspersed throughout the development, providing residents with ample opportunities for relaxation and recreation within the condo's grounds.
Residential units within the Hillock Green would be strategically positioned to optimise natural light and ventilation, creating energy-efficient homes. The layout would aim to provide a stunning view of the surrounding area, an integral feature considering Lentor's picturesque setting.
Attention would be given to the positioning of Hillock Green condominium's facilities. Essential features like swimming pools, BBQ pits, clubhouses, gymnasiums, and children's play areas would be evenly distributed across the development. These facilities would be designed to accommodate residents' varied interests, promoting an active and vibrant community lifestyle within the condominium.
Efficient and accessible transportation within and around Hillock Green is a critical element of the site plan. Vehicular entrances and exits, pedestrian pathways, and possibly underground or multilevel car parks would be designed for easy access and smooth traffic flow. Additionally, accessibility features such as ramps and elevators would be included to cater to elderly residents and those with mobility challenges.
Furthermore, Hillock Green site plan would also factor in the condominium's proximity to public transportation networks like the Lentor MRT station. It should facilitate easy access to these networks, making commuting to other parts of Singapore a breeze for the residents.
In terms of aesthetics, the architectural design of Hillock Green as illustrated in the site plan would aim to create a visually pleasing and contemporary aesthetic that complements its natural surroundings. The design should be in line with Singapore's urban planning regulations while reflecting a modern and luxurious lifestyle.
Safety and security would be paramount in the Hillock Green site plan. Appropriate locations for security posts, CCTV cameras, and emergency exits would be indicated to ensure the safety of the residents.
Finally, the site plan would likely illustrate how the condo would accommodate future developments as outlined in the URA Master Plan. This could include provisions for new facilities, renovations, or expansions based on future demographic and lifestyle trends.
In conclusion, the site plan for a Hillock Green would be a meticulously crafted blueprint that combines aesthetic design, functionality, and sustainability. It would aim to deliver a high-quality living environment where residents can enjoy a blend of modern comfort and natural serenity, true to Lentor's charm.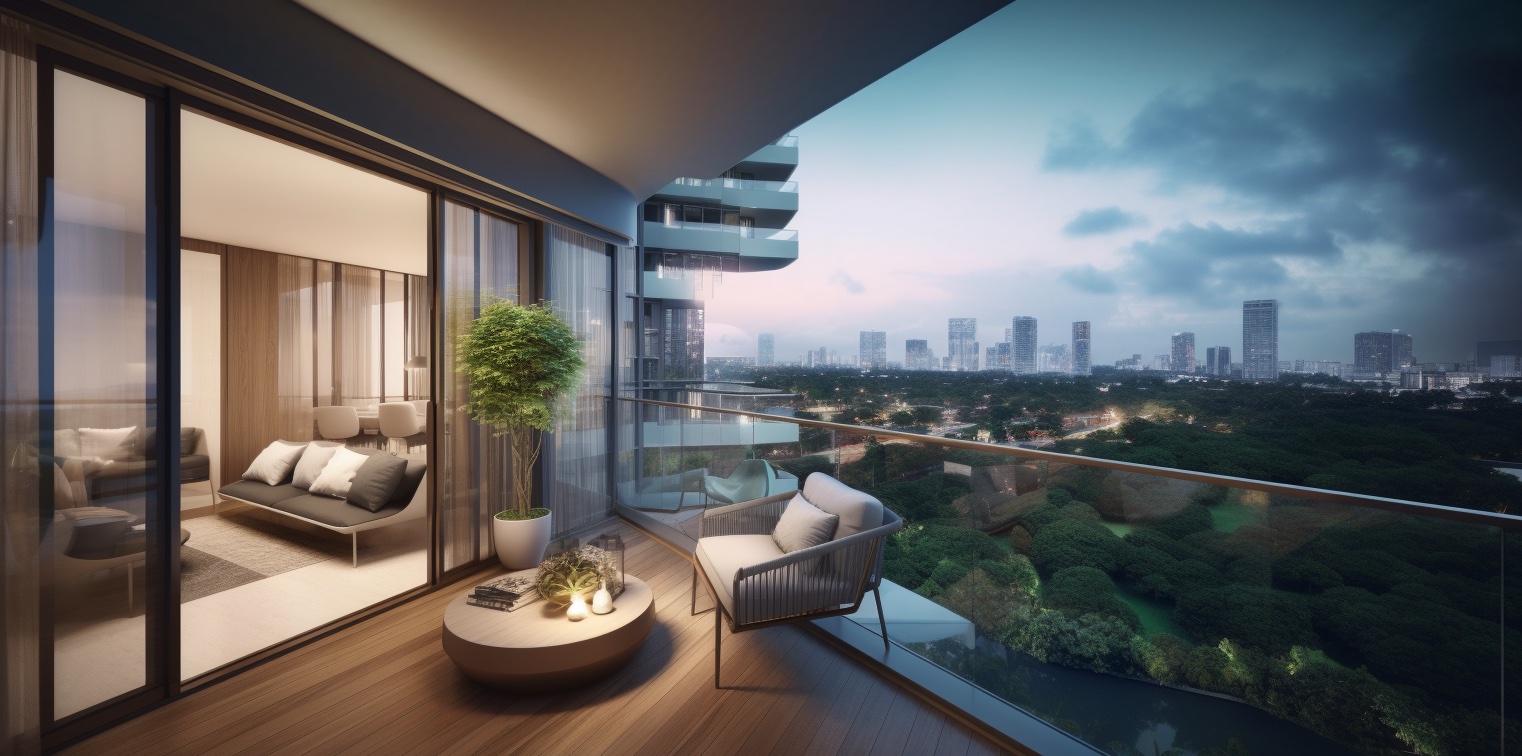 Staying in Hillock Green is not just about enjoying good accessibility, a wide range of amenities, and quality housing. It's about being part of a vibrant community, savouring the tranquility of suburban living, and yet, having the convenience of urban amenities at your doorstep. It's about a lifestyle that blends modern comforts with a touch of nostalgia, making these precincts a truly charming and compelling place to call home.
The most attractive aspect of living in Hillock Green Lentor Central is the strong sense of community. The URA Master Plan's emphasis on community interaction spaces and shared amenities aims to foster stronger neighbourhood ties and a more engaged community. Initiatives like the transformation of the former Seletar West Farmway into a community farming hub are examples of how community living is encouraged.
Hillock Green Location Map
Hillock Green amenities make it highly appealing for residents. Numerous shopping centers, such as the Ang Mo Kio Hub, provide a wealth of retail options for Hillock Green Condo Residents. Groceries, clothing, electronics – you name it, you will find it here. Hillock Green food options are extensive, ranging from traditional hawker centers that serve local delicacies to a variety of cafes and restaurants that cater to global cuisines.
Another facet that makes Hillock Green a fantastic place to stay is its extensive green spaces. These provide opportunities for outdoor activities and contribute significantly to the quality of life. Bishan-Ang Mo Kio Park, one of the largest urban parks in Singapore, is a perfect example. Here, Hillock Green Condo residents can enjoy cycling, jogging, or even a simple picnic by the river, creating a serene environment amid the urban hustle and bustle.
Healthcare is a key aspect of any residential area, and Hillock Green shines in this respect as well. Hillock Green Condo is home to several top-notch medical facilities like the Ang Mo Kio Polyclinic and the Thye Hua Kwan Hospital, ensuring that medical assistance is readily available when needed.
Secondly, the transport network  is a model of connectivity. Hillock Green is served by the North-South MRT line, and the Ang Mo Kio MRT station is conveniently located in the heart of the town. Hillock Green comprehensive network of buses ensures that every nook and corner of the town is well connected, thus providing seamless and efficient travel within the town and to other parts of Singapore.
Educational institutions are another significant factor when choosing a place to live. Hillock Green Condo location boasts some of the top schools in Singapore, such as the Anderson Serangoon Junior College and CHIJ St. Nicholas Girls' School. These educational institutions ensure that children receive high-quality education and grow in a holistic and nurturing environment.
In conclusion, the blend of modern conveniences, extensive green spaces, stellar connectivity, rich history, and robust community spirit make Hillock Green a prime residential area. Its all-encompassing offerings make it not just an excellent place to live, but a place to truly call home. With all these advantages, it is no wonder that Hillock Green is considered one of the best places to stay in Singapore. Hillock Green embodies the essence of a modern urban habitat that is sustainable, vibrant, and caring, offering a quality of life that is truly unmatched.
Why Buy Hillock Green?
The residents have direct public transport connectivity to the Central Business District, Woodlands Regional Centre, and key Singapore areas.
A prime location that enhances contemporary living with easy access to a variety of amenities.
The upcoming Lentor MRT Station on the Thomson-East Coast Line (TEL) is just a 3-5 minute walk away.
Conveniently close to well-known schools such as CHIJ St Nicholas Girl's School, Anderson Primary School, and Presbyterian High School.
The development offers a comprehensive lifestyle and entertainment suite with features like swimming pools, BBQ spots, and a clubhouse equipped with gym facilities.
This tranquil and secluded environment provides an ideal setting for family living, blending convenience and comfort in a verdant, cosy setting.
Contemporary 1 to 5-bedroom units showcasing innovative designs.
Located amidst Ang Mo Kio, Bishan, Central Water Catchment, Sin Ming, Yishun, and Thomson
Hillock Green Site Plan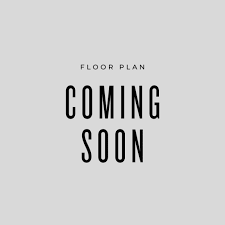 Site/ Floor Plan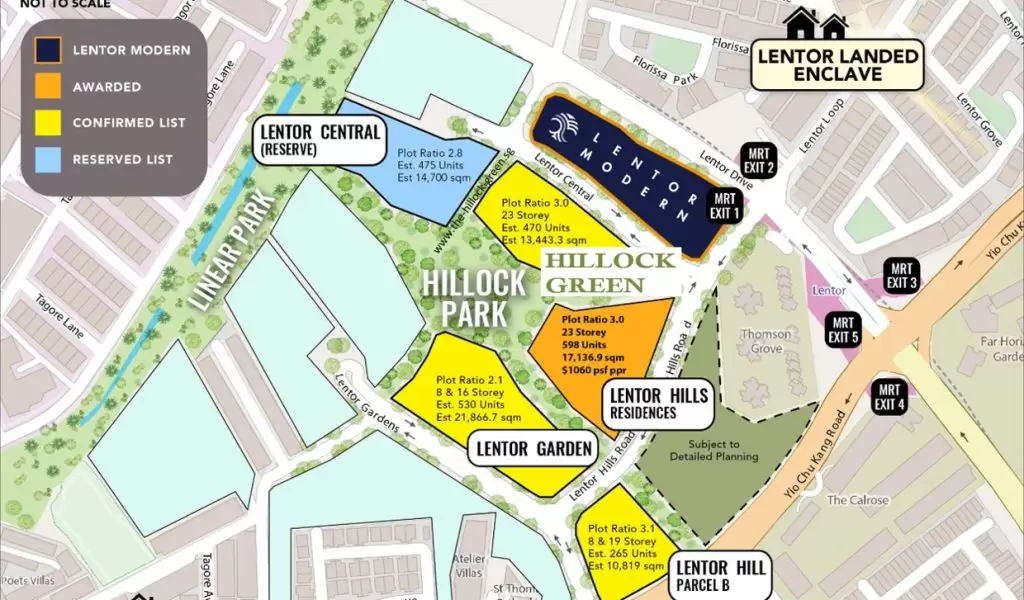 Are You Interested in this Property??
Contact us now to find out more details about this:
Adrian Wee
Contact : +65 9755 5202
Email: info@showroom.com.sg
CEA Reg. No.: R013371C
Call us to make an appointment now. For overseas investors or buyers who are not residing in Singapore, you can choose to WHATAPPS  +65 9755 5202, EMAIL info@showroom.com.sg or fill up the form below and we will contact you the soonest.